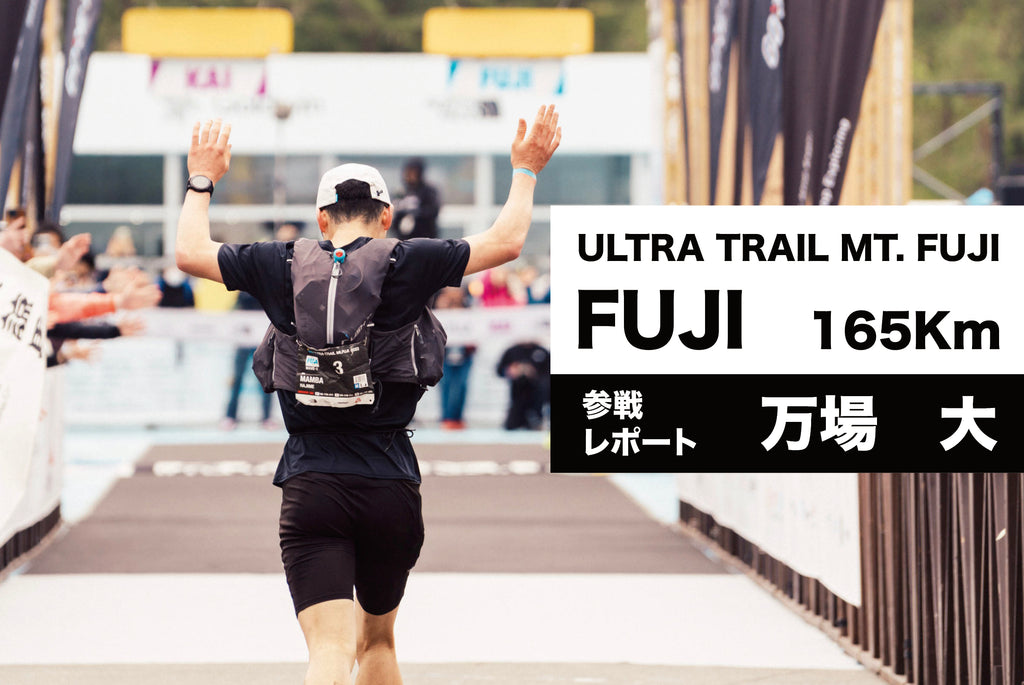 ULTRA-TRAIL Mt.FUJI/Participation Report (Banba Univ.)
UTMF in 2023 will be held with participants from overseas as before the corona disaster. As usual, there were two races, 100 miles and 69k, but the names were changed to "FUJI" and "KAI" respectively. This race report will be delivered in an interview format!
FUJI: Interview with Dai Banba
Dai Mamba, who won 3rd place in the 2022 UTMF and was a hot topic in this race. Despite suffering from stress fractures in both legs in February, he finished in 4th place with a time of 21 hours, 24 minutes and 7 seconds. After the race, we asked about the whole process of running!
Profile of Dai Mamba
He started lifting weights when he was in high school and continued to build muscle in the gym until he was 28. On the other hand, he started mountain climbing at the age of 18, entered the world of running when he won the Kobe Marathon lottery at the age of 21, and started trail running at the age of 22. UTMF is my immediate goal, and this is my 6th challenge. In 2022, he won the OSJ ONTAKE 100 100km, finished UTMB Mont-Blanc in 27th place, the highest among Japanese athletes, and finished 2nd in the Hasetsune double 132k. In 2023, he finished the Tarawera Ultramarathon 100mile in February in 15 hours 11 minutes and placed 2nd overall. there is
- Continuing from last time, all the staff were nervously checking the situation for this race. Looking at Mr. Mamba's expression, it seemed like he was progressing indifferently, but how was it when you looked back at the whole thing?

My honest impression is that the temperature was high this time, and the painful time was long anyway. I have set a target time of 19 hours and 30 minutes, and if I hadn't been injured, I think I would have passed 20 hours. I was straining to reduce the impact on my feet when I landed, and I couldn't get up to speed even when climbing. On the other hand, it gave me confidence that I could run this far even though I was injured.

―I was surprised to hear about the fractures in both legs, but it was also a shock to participate as planned! Didn't you think of giving up?
Well, I think it was a big part of the coverage of The Great Race (NHK's documentary program) (laughs). People at work support my activities, which makes me very happy and encourages me. Television is the media that people at work and their families can watch, so I have to work hard to appear. But I was determined not to overdo it.


―It was also impressive that you stayed so short that you thought you had entered the war without support, even with aid, but you were gone. Please tell me what kind of strategy it was.
We decided not to support each other so that we wouldn't have to worry about each other. In addition, in order to shorten the time by 1 minute, it is more effective to shorten the stay time of the aid than to increase the pace, so the aid supply is only 2 bananas, and don't forget to replenish water. I made sure to open the lid of the flask when the aid approached. There are only two things to do, so aid work doesn't take much time (laughs).

The supplementary food I had in my rucksack at the start was 26 powdered candy gels (32 were added from the drop bag on the way), Midori Anzen's salt heat supplement, and 5 MCT oil jelly. Only foods that can be eaten without chopsticks and foods that can be eaten without processing. I refilled the gel once every 25 minutes on the trail and threw away the empty pack at the aid. It was hot, so I ate all the salt heat supplements I had, and added some with Aid. There were no bananas at Lake Motosuko Aid, so I ate Minobu manju.
Not limited to this time, I have almost no experience with gastrointestinal troubles, and because it is FUJI, I have never prepared anything special. Speaking of what I am careful about, I think that I usually cook three meals for myself in consideration of nutritional balance.
The early stage when the heat was tough. The pace of running out of water was faster than usual
―How was the situation from the start to F1 Fujinomiya, F2 Fumoto, and F3 Motosuko?
Right after the start, the forest road continues downhill, so it's easy to run, but this time it was really hot and I was running at a pace of about 4 minutes and 30 seconds per kilometer. It's about the pace of a regular jog. I arrived at the first Fujinomiya Aid in 1 hour and 56 minutes.

In the beginning, climbing the Tenshi Mountains (Mt. Tenshigatake, Mt. Chojagatake, and Mt. Kumamori) was tough. It was sunset around Mt. Kumamori, but the temperature did not drop, and I was sweating a lot before arriving at Fumoto Aid. I usually take salt heat supplements once every 30 minutes, but I take 2 tablets every 15 minutes or every 10 minutes. , there was also the risk of dehydration. There was no wind on the ridgeline, and the small ups and downs continued, so I couldn't help but worry about whether there was enough water rather than the condition of my legs.
I felt dehydrated at Fumoto Aid, so I decided to drink 1 liter of water. I didn't really feel any decline.
"FUJI" starts at Mt. Fuji Kodomo no Kuni (Fuji City), goes clockwise through Fuji-Q Highland (Fujikawaguchiko Town/Fujiyoshida City), Yamanakakohan (Yamanakako Village), and finishes at Fuji-Q Highland for a total of 164.7km (cumulative Elevation: +6,451m / -6,493m) course. The 2,400 competitors will start in four waves of 600 each. The first wave will start at 14:30 on Friday 21st April, followed by the final 4th wave at 15:15 with 15 minute intervals. The time limit was set for 11:30 on Sunday 23rd for each wave, and 44 hours and 15 minutes for the fourth wave.