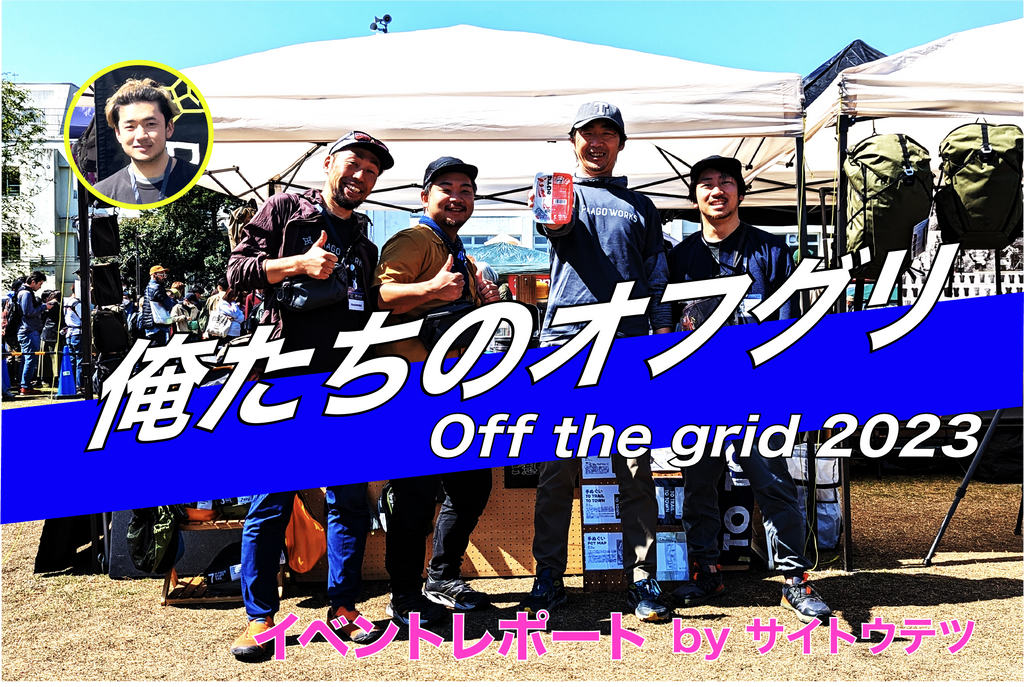 Our Offgri | Off the Grid 2023 Event Report
Pergo Works also opened a store at Off the Grid held in Machida City, Tokyo on the weekend!
This off-guri was held for the first time in 4 years. Actually, I, Saito, have been involved as one of the founders of Off-grid from the beginning. It is an annual event.
Through repeated trial and error every year, the event itself has become popular, and I think it has also fulfilled its role as a gateway to success for the garage brand. And we, Pergo Works, were also brought up by this event, and now it has become an indispensable event for high school students, like a cultural festival.
In order to liven up such off-guri, Pergoworks has prepared contents with a lot of spirit. One of them is the "NINJA TARP early tension game". How quickly can you set up the NINJA TARP, which boasts ease of tension? It is an attraction that competes for A ridiculous time was also born this time!
This is the first tournament held at PCT DAYS in the US last year. The top record is 31 seconds! Can Offgri beat this record? was noticed.
From seasoned veterans, to families with children, to hikers from overseas, even those who were shy at first joined the gallery.
NINJA TARP that even elementary school students can set up within 2 minutes! Even I, the developer, was surprised.
The winner of the first day was the combination of Yokogi and Ishikawa, who beat out 26 seconds! .
Wow, that's great. By the way, I am a developer at 1 minute 11 seconds. I have to sneak it. . .
but! On the second day, Aita updated the record. What a new world record in 24 seconds. He won the race with a margin of 2 seconds from 2nd place.
Look at that feat. It's God's domain now.
No other company's tarp can achieve this record (laughs). In fact, 46 groups participated in two days like this. truly, thank you very much!
And then here!
First time in Japan? I also did "grab and sell plastic parts". This is a new project that was realized by the fierce push of Pergo's "Maru Glasses Women's Association". It is an attraction for MYOGER by MYOGER that tickles the MYOG spirit, which is the origin of Pergo .
At first, we just collected surplus parts in the company, but eventually we brought in the "favorite buckles" of each staff member and put them in the canister! As a result, it became a treasure chest full of rare items.
The photo shows parts selection in the company. This may have been the most exciting part of the preparations! ? Let's add more parts next year! We are all excited. Stay tuned for next time!
And then, is this also an annual event? 's "Showing in the middle of development corner" This year, we have unveiled prototypes related to trail pots.
Development based on user voice is a style that Pergo values. We received a lot of opinions from everyone, so we got momentum for commercialization!
By the way, the prototype made for April Fool's Day is also exhibited. I'm personally very happy that you noticed this. I'm glad I did my best to create the material~
And also a serious exhibition.
This is the exhibition and fitting corner of RUSH, which has undergone a full model change. MEET NEW RUSH, who is currently on a nationwide tour, will be unveiled here at Offgri. 150 prototype photos made for development are also exhibited.
The only difference is that the brother model BUDDY can also be tried on together. They may look different, but they have the same DNA! The story. It's like the Saito brothers lol (Hobo Jun is my brother)
Many runners and hikers have experienced the goodness.
In addition, this time, the garage brand " MIYAGEN Trail Engineering " launched by PCT hiker Miyacchi jumped in.
Although the exhibition was just one panel, many MIYAGEN fans stopped by.
When I was in my twenties, I used to participate in events like this and serve customers in an unfamiliar way. For young garage makers, it's best to have many people see your work in broad daylight! That's my theory. I am happy that I was able to be involved in Ofguri as a founding member and see this kind of scenery.
So far, I've told you about Pergo Works, who are throwing all their strength in all directions as usual! It was the first time in 4 years, and many of the vendors had reopened, and I was able to meet customers I hadn't seen in a long time, so it was a really good weekend. Thank you very much to everyone who came!
Tetsu Saito (Representative Director)
bonus
A preview of the 1st venue. Everyone is young!