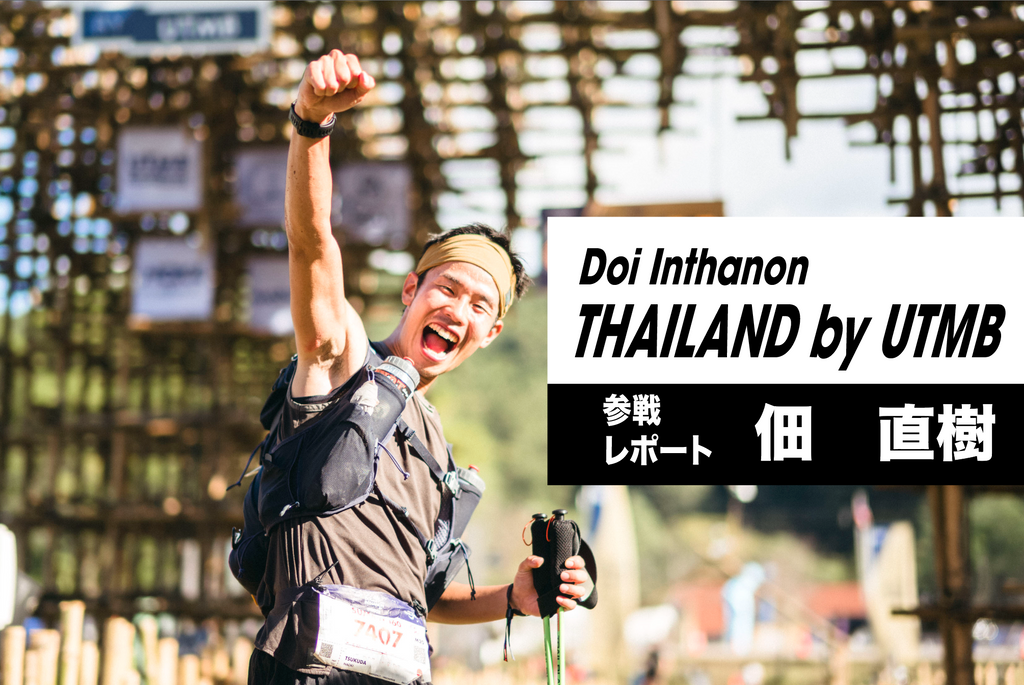 Doi Inthanon Thailand by UTMB race report (Naoki Tsukuda)
I ran at Doi Inthanon Thailand by UTMB held in Chiang Mai in northern Thailand on December 9, 2022. Moreover, it is a 100-mile race (which we have been focusing on in recent years).
This was another great experience for me, so I hope I can share my thoughts on the race and my subjective thoughts in an article. Thank you for your continued support!
It's the beginning of December and it's getting colder in Japan. The Pergo team also participated in the trail running race held in Thailand in everlasting summer, as an event exhibitor and player support. After the 100-mile race has started, I hear a lot of information about the athletes as I go around the course to cheer them on, centering on the aids they put in. 〇〇 was calm. Mr. 〇〇 seemed a little tired. Among them, there was a name that I heard many times. "Tsukuda-kun looks like he's having fun." "Tsukuda-kun looks like he's still good."
For this issue of the magazine, we asked Naoki Tsukuda, who always wears happiness and makes any tough race his own stage, to submit a race report.
Naoki Tsukuda
I first encountered trail running four years ago when a friend invited me to try it. The first race was a 250km stage race in Mongolia's Gobi Desert. There, he became captivated by the joy of running long distances and the wonderful encounters he encountered through running. became my running style. I belong to the Chicken Heart Running TEAM and love running with my friends. Last year, I moved to Chino City, Nagano Prefecture because I love mountains. For training, I run freely in nearby Mt. Kuruma and Mt. Yatsugatake.
I couldn't go abroad for a while due to the pandemic, but I was looking forward to running freely overseas again someday, so I learned that Doi Inthanon Thailand by UTMB will be held on a larger scale. I decided to participate immediately. Another big reason I decided to participate in the race was that if I completed the race, I would receive a UTMB running stone, which would increase my chances of participating in the UTMB (Mont Blanc) held in France.
*Running Stones: "Running Stones" are given to those who complete the UTMB World Series, which has 30 races around the world. If you get it, it will be advantageous at the lottery of the competition entry of UTMB (Mont Blanc).
What is Doi Inthanon Thailand by UTMB?
Doi means "mountain" in Thai. Inthanon is the highest mountain in Thailand, and there is a national park at the foot of the mountain, making it a tourist destination that many people visit from home and abroad. Doi Inthanon Thailand by UTMB is a race set in that mountain range, and there are multiple categories such as Summit 160 (170km), which I ran, as well as Cliffs 100, Pagoda 50, Terrace 20, and Tribe 10. The big attraction of this competition is that it is a competition where you can enjoy.
As for the course layout of the SUMMIT 100 (170km) I ran, the total elevation gain was 10,045m. There are not many races in Japan where you gain more than 10,000m of altitude in 100 miles, and I was determined to be the toughest 100-mile race in the past. There were 14 aids in all, and water, sports drinks, fruits and Thai food were prepared.
The most difficult part of the race was said to be Doi Inthanon in the first half. From an altitude of around 1,000m, you will run up to 2,500m at once, aiming for the summit. There were many scenes where the mountains with such a punch and the heat peculiar to Thailand deprived me of my physical strength.
Race start! ! !
The excitement at the start of the race is difficult to express in words (laughs).
Three or four MCs livened up the race, and there was music and dance performances. My favorite moment is at the start of a race, and I always think about how to finish the race with that tension. There is also a theory that the higher the tension at the start, the better the results (laughs). I really enjoyed the opening of the grand festival.
A 100 mile race is a long long journey. Since you will have to keep moving for more than 24 hours a day, the iron rule is to conserve your stamina until the second half and not skip the first half too much. However, it's been a long time since I've had an overseas race. The great atmosphere of the place pushed me forward, and I overtook the players ahead of me in the first half at a faster pace than I had planned.
In this race, runners have national flags attached to their backpacks so that they know which country the runners belong to. I went to the front of the pounding in the condition of chasing the previous player.
Thanks to that, I was able to enjoy the race while talking with the athletes I looked up to who I wouldn't normally be able to run with. Talking with them will lift your spirits and give you the energy to move forward. I was able to convert the power of the runners I met on my journey into my own power and enjoy the race. This is the Tsukuda style of "plunging" (laughs).
A3-A5 aiming for the highest peak in Thailand
Immediately after the start, the temperature in the mountains of Chiang Mai exceeded 30 degrees Celsius, which was more than 30 degrees different from the foot of Mt. Yatsugatake where I usually live. Wipe the sweat that flows like a waterfall with a tenugui, and use the tenugui to cool your body. After that, I rehydrated the rabbit, and I always had 1.5 liters of water, so I took in more water than I needed.
When I climbed near the top of Doi Inthanon, I used too much physical strength and often felt like my legs were cramping. I was able to As I headed for the summit, the scenery opened up more and more, and it was really beautiful.
Fighting Darkness in the Jungle A6-A9
After A7, the sun sets and we walk through the jungle of Chiang Mai relying on headlights. There are quite a few course marking tapes so that you don't get lost, but all the marks were marked with reflective tape, so it was very easy to understand, and I never lost it.
From the time the sun began to set until the next time the sun rose, I was able to move towards the finish line with Kazuyuki Takahashi (DEEP JAPAN ULTRA 100 winner), who was advancing at the same pace for more than ten hours. Thanks to you, I was able to overcome my sleepiness by pulling each other forward. One of the charms of trail running is that you can join the runners you meet along the way. I was able to spend a really enjoyable and valuable time listening to stories that came from a lot of experiences.
Bathing in the morning sun in Thailand A9-A11
In the second half of the trip, A9 and A11 had drop bags prepared in advance, and we were able to replenish supplementary food. In my own way, I did "toothbrushing" to raise the gear further. When you brush your teeth, the inside of your mouth is really clean, and the fatigue in your feet is reduced, giving you a refreshing feeling.
When I got to this point, a new sun was rising, and I felt a truly beautiful sunrise, and I was happy that I had made it this far unscathed. The journey is over 130km, and from here is the real 100-mile race, the most interesting scene. I thought that I could face myself, who was in tatters, and I was more excited than ever before and moved on.
A11-A13 with a longing senior
Looking back at the end of the long journey and the beginning, it was absolutely overpaced, and we could have been crushed at any moment. However, each aid and support along the way gave me a strong feeling that I will definitely finish the race, and I felt that I was able to enjoy the whole race and be able to speak my mind.
At the moment when I thought "to the end!", a cheerful voice came from behind. Tomokazu Ihara (Tomo-san) and Yosuke Yamada have caught up. Both are aspiring runners.
In front of me was a huge mountain (1,000m up, 1,000m down) that would be the final boss. I couldn't stop being excited to advance the final stage of the 100-mile race with this team in the sunshine and temperature that was stronger than yesterday.
Gradually, I could no longer lift my legs and stumbled more and more on trees and roots, but I desperately followed Tomo-san. At that time, strangely enough, I didn't feel any pain, and I could only hear my heart beating. I was able to savor a really happy moment and move on.
The last is Winning Run A14~
Defeat the last boss with Tomo and go to the final aid. The long 100 mile is finally a winning run. The people from Pergo Works welcomed me, and I felt a sense of accomplishment. I'm going to run with a dash, but the speed is slow. Looking back on the race with Tomo, we squeezed the last of our strength together.
When I came back to the goal point, there was still a flashy goal gate, a high-energy MC, and many people greeted me at the goal. I'm really happy, it's fun, and I'm glad I'm alive! An explosion of emotions. Thanks to the runners, many supporters, photographers, aid volunteers, and many other people who were with me along the way, I was able to enjoy myself all the way to the finish line, and I was filled with a sense of gratitude.
travel companion
The friend (gear) of this trip used RUSH 11R. There was no problem with the capacity at all, and I was able to put extra water and supplementary food firmly in running the 100 mile race. I've been using UT2 so far, and it's really easy to access the pockets from the side to the front of my body, so I was able to replenish without stress. Also, I'm really glad that I was able to finish the goal with Zack, who was in close contact with my body and didn't shake at all. RUSH 11R is a must-have for long races!
I want to enjoy the race and life!
As a result, the goal was 29 hours 19 minutes 9 seconds. I was able to reach my goal within 30 hours. Ranked 21st overall, 8th in age category (20-34 years old). Qualified for the UTMB World Series Finals. Also, I am happy to be able to play big on a big stage overseas. I think my running life will continue for a long, long time, but this race made me realize once again that "enjoyment and laughter are more important than anything else!" I think. Also, since last year I changed my field of activity from the city center to Nagano, I would like to spread the charm of Nagano more and want many friends to come and visit!