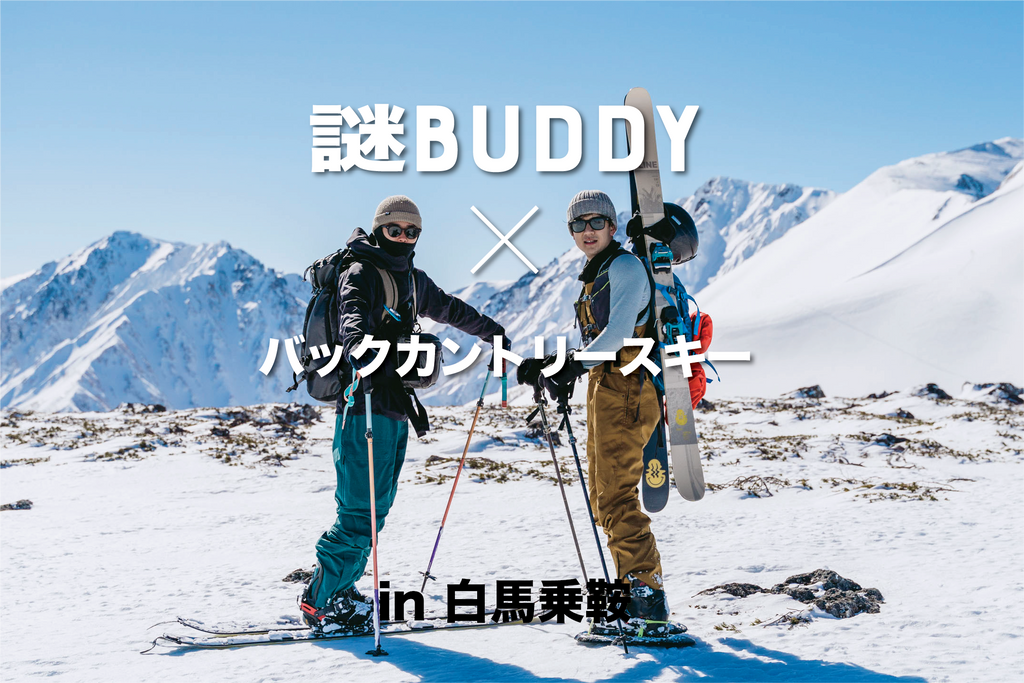 Mysterious BUDDY × Backcountry Skiing in Hakuba Norikura
PAAGOWORKS has developed backpacks for various outdoor activities, such as RUSH for trail running and BUDDY for hiking and mountaineering. In fact, we are developing backpacks for backcountry skiers and snowboarders from 2021.
Team up with snowboarders and test prototypes in the field. Immediate feedback and repeat further testing. We would like to show you the behind the scenes of PAAGOWORKS manufacturing, which users don't often get to know. By the way, this model is under development. It seems that I can hear the voice saying "Is it okay to publish it even before it is released?!"How will the new model of the backpack be made? I would like to share the situation with everyone and aim for completion together.
Development will start in Hakuba in 2021
Development began back in the winter of 2021. Alpine climber and snowboarder Kiyoshi Funayama and PAAGOWORKS designer Toru Saito hit it off by chance. For Saito, who has snowboarding experience, a backcountry pack was one of the products he wanted to make someday.
Therefore, by incorporating the ideas of Mr. Funayama, who has a lot of experience, and the know-how that we have cultivated in backpack making, we came up with the idea of ​​creating an ideal backcountry pack that PAAGOWORKS considers.
We brought in sewing machines, fabrics, and parts to set up a base in Hakuba, which is one of the most suitable backcountry locations in Japan. Field test during the day, modify the prototype based on feedback at night. PAAGOWORKS has become a development site with an unprecedented style that reflects the rider's voice with a minimum time lag.
The prototype is disassembled on site and sewn back together. Change the position of the zipper, add new functions, and sometimes change the size itself. Saito, who is the representative of the brand, is able to do such tricks because he is a designer first and foremost.
The development points for this product range from the avalanche gear pockets that are indispensable for backcountry riding, the stability of riding, the comfort of carrying it, the fit when hiking up, and the ease of taking out gear. We will bring in a number of snow gears and exchange opinions while assuming the situation. The scene is exactly "camping".
In this way, the prototype ver1 is completed. As expected of those who got the pin. This model is based on BUDDY plus specifications for backcountry. Although it is based on the backpack, it has a completely new backpack with a back panel and new belts.
Saito also asked questions such as, "How easy is it to open the back panel and take out the luggage?" We participated in riding together and checked the feeling of use based on the behavior at the site.
In the first season of development, the prototype evolved to ver2, and further testing and brushing up ideas were carried over to the next season. There is still a long way to go until commercialization.
Test prototype ver3 in 2022-2023 season
This winter with little snowfall. While being swayed by the weather forecast, I returned to Hakuba. "I tried to make something a little different this season," said Saito, who brought a prototype version 3 that adopted a zipper type. While solving the issues that Mr. Funayama, who had continued to use the previous prototype, tested with completely different specifications to confirm the feel from a different perspective.
―The sample you made in 2021 is a model based on BUDDY. In terms of Gundam, it's like Gouf developed based on Zaku. The sample tested this time is like a newly developed Dom (get it?). Both have advantages and disadvantages, but I'm not in a hurry to reach a conclusion yet. More than that, I can't help but enjoy exchanging opinions while playing on the field every season. I even started my own brand because I love this development process. So if possible, I don't want this project to end. In other words, commercialization is still ahead. It would be a different story if I received a passionate love call from everyone who read this article. (Designer Saito)
Heading to Hakuba to catch the snow
From here, we will deliver the state of the field test of this season. We headed to Hakuba Norikura for the test. The hike up to the drop point and the walking distance are long, so you can expect a variety of situations, so it is ideal for checking the comfort of your back, the ease of use when using gear, and the fit during riding. What's more, it had snowed the day before, so I challenged the test full of expectations, thinking, "I might be able to ski on powder!?"
The members this time are Mr. Kiyoshi Funayama, who continues to serve as a development advisor, and newcomer Knorr of PAAGOWORKS. We test backpacks from two perspectives: snowboarders and skiers.
After getting off the last lift station, switch to hike-up mode and head to the backcountry. We will check points that can only be noticed on site, such as the feeling of climbing with skis on your back and the ease of taking out your luggage during breaks.
As a matter of fact, when we reached Tenguhara, there was a thick fog, and we even talked about skiing on the slopes along the way for a test.
The backcountry looks spectacular, but it's a simple hike up to the drop point. Start climbing from the top of the slope, pass through the forest zone, and go to the world above the clouds. Walking on the snowy mountains with a spectacular view of Hakuba while gazing at the sea of ​​clouds far below is fun in itself. Check the quality of the snow and think about which slope to ski while increasing the altitude.
Cross Tenguhara and arrive at Mt. Norikura. Here you can exit walk mode, gear up and start skiing. After a short break, change the layering and put on the snowboard and skis. It is unique to the backcountry that you can frequently put in and take out equipment such as clothing and gear. We will proceed with preparations while confirming practicality, such as whether it is easy to put in and take out luggage, and whether the comfort can be maintained even if the amount of luggage changes.
Even though it's called a test, I still want to ski powder!
Snow was blown away near the summit due to strong winds, and it was covered with shukabra and ice. Moved towards the slope where I was eyeing. While immersing yourself in the sense of accomplishment that you have climbed so far, check the line and finally drop in!
Riding for just a few tens of seconds. The feel and scenery that cannot be experienced on the slopes, and the conditions are good. The downwind open barn is full of drifts, and the powder is more than I expected, and the fatigue of the day is blown away.
In the backcountry, it is a tool to carry a set of equipment including avalanche gear on your back, and at the same time you have to slide while carrying it on your back, so the fit of the backpack greatly affects the landing performance. These field tests are essential to confirm the position of the center of gravity and to check whether there is any left or right blurring.
The development of backpacks for the backcountry continues!
Left: Kiyoshi Funayama
Born in 1995. Professional climber, climber, and snowboarder born and raised in Nagano. Currently based in his hometown of Saku, he presides over "Gen."
Right: Takeshi Kuno (Knorr)
An adventure racer apprentice who got a part-time job at Pergo Works after participating in Navi Camp. He has experience in racing overseas, so he seems like he could be anything, but he's still nothing. Generation Z is straying from growing a beard to blue hair.
Mr. Funayama: It all started when I told him that I wanted to go from trails to the backcountry with just one backpack in this day and age where activities and mountain gear are diversifying. Backpacks expand our mountain possibilities. Things that take you farther, sometimes to different places. Just as the rush of Pergo Works inspired many people to start trail running, I would be happy if it could create opportunities for new activities such as winter mountain and backcountry. I would like to work with Pergo Works on the search for a backpack that can be used in any season and in any mountain in Japan, which is rich in mountain play and nature.
Knorr: For me, mountain climbing, BC skiing is my first attempt. Still, a ski trip with my family has been an annual event since I was little. I've always wanted to try it someday, so it's not the time to be scared because I'm a newcomer. The first thing I did was talk directly to the president that I wanted to challenge the winter mountains, and enthusiastically appealed, "If it's skiing, leave it to me. I can do it." The field is my dream land. The voltage continued to rise as we gained altitude by hiking up, and finally dropped in. I will never forget the feeling of jumping into a snowy field, tearing apart the boundary between the blue sky and the silvery white. Immediately after my ride, Mr. Funayama's elegant and aggressive skating. I was simply fascinated by the carved traces. It was worth the fierce appeal.
Development of a backcountry backpack for the third season. Based on this feedback, further brush-ups and design changes will be made, and the prototype will evolve from ver4 to ver5. Aiming for the best backpack ever made by PAAGOWORKS, trial and error will continue. I am waiting for messages of support. Please wait for a while until the release!